Apphia Judson Sisson was born to John Taliaferro Sisson and Anna Elizabeth Clarke on March 25th, 1861 in Richmond County. She was known as Juddie and one of eleven children.
Her father was a Sergeant in in Captain Murphy's Company of the Northern Neck Reserves, he enlisted in 1864, and was likely not mustered during the war.
The first record she appears on is the 1870 census. She was marked as not being able to read or write and not having attended school in the past year. Her father's occupation is listed as farmer.
Juddie married William Ryland Franklin on December 11, 1879 in Richmond County. The 1880 census shows "Willie" living with Juddie's parents in the Washington magisterial district of Richmond County. They are noted as being married in the last year and are listed as boarders.
They had four children, Benjamin, born in 1880, Hilda in 1882, Emma in 1894, and George in 1896.
The 1900 census shows the family still in the Washington township of Richmond County living in their own house. Willie's occupation is given as watch and clock repair.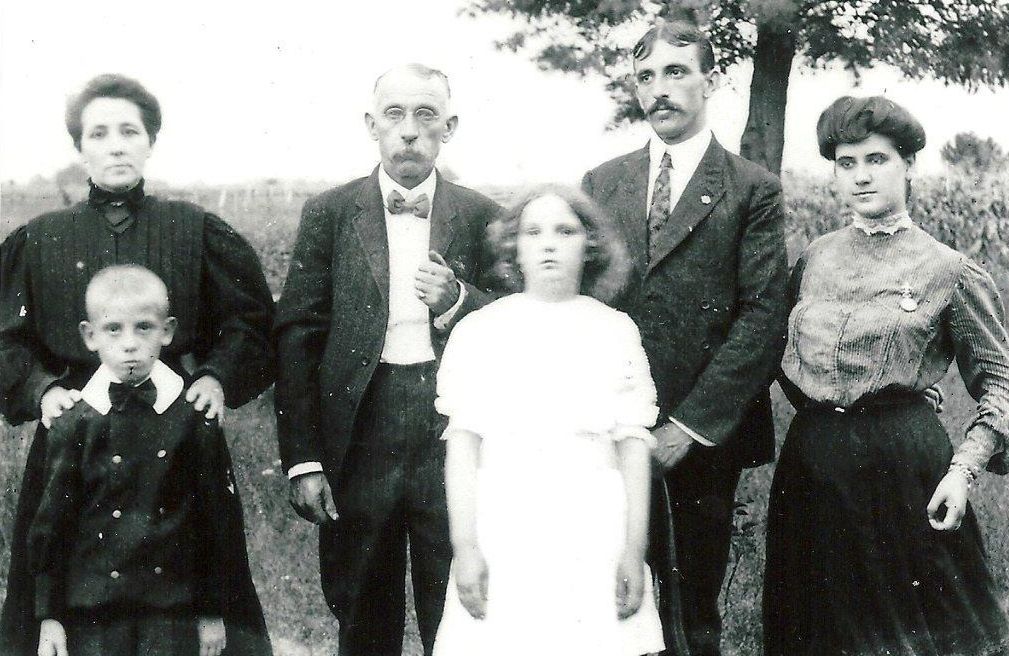 After being very ill in the winter of 1909, the 1910 census shows Willie and Juddie still in the same area, their two oldest children have moved out. They are both noted as being able to read a write and own their home mortgage free. Willie's occupation is given as a farmer. George and Emma are both listed as working on the home farm and attending school.
The 1920 census shows their daughter Emma living with Willie and Juddie along with her husband and two young children. Willie is again noted as a farmer.
The 1930 census shows the couple living alone ages 76 and 69. Willie passed away in 1933. He was buried in the Totuskey Baptist Church cemetery. I have been unable to find a record for Juddie in the 1940 census.
Juddie died March 27, 1947 in Haynesville, Richmond County of organic heart disease, a condition wherein the heart doesn't function as it should because of deformity or inflammation. She was buried alongside Willie on March 29th.
Documents:

More Memories:

Frances Franklin wrote this memory of her grandmother in 2015:
I do remember my grandmother Juddie. I guess the main thing I remember was that she was very small and always wore dark clothes – usually black. She had very little to say and by the time I could remember her she was bent over. I remember when she was old she didn't like to have her picture taken. I used to tease her because I would get my father's camera and pretend I was taking her picture which probably didn't have any film in it.
Newspaper Clippings:

Map:

Comments:

Future 3:

Curabitur mattis purus ornare augue finibus, sed tempus ex eleifend. Maecenas vitae volutpat diam. Curabitur sollicitudin porttitor nisi. Nulla rutrum facilisis quam, sed bibendum magna consectetur sit amet. Fusce nulla turpis, efficitur eu tempus eu, accumsan malesuada sem. Morbi vestibulum libero et metus porttitor, vel ultrices lorem facilisis. Donec maximus ultrices ex ac tincidunt. Praesent vel enim laoreet, pharetra massa feugiat, iaculis neque. Nunc volutpat, nibh a laoreet venenatis, sem augue sodales nunc, eu commodo quam nisi vitae nunc. Nullam tristique placerat quam quis ornare.
Sources:

Year: 1870; Census Place: Washington, Richmond, Virginia; Roll: M593_1674; Page: 258B; Image: 355812; Family History Library Film: 553173
Year: 1880; Census Place: Washington, Richmond, Virginia; Roll: 1386; Family History Film: 1255386; Page: 464C; Enumeration District: 099
Year: 1900; Census Place: Washington, Richmond, Virginia; Roll: 1725; Page: 17B; Enumeration District: 0074; FHL microfilm: 1241725
Year: 1910; Census Place: Washington, Richmond, Virginia; Roll: T624_1643; Page: 4B; Enumeration District: 0108; FHL microfilm: 1375656
Year: 1920; Census Place: Washington, Richmond, Virginia; Roll: T625_1908; Page: 8B; Enumeration District: 141; Image: 702
Year: 1930; Census Place: Washington, Richmond, Virginia; Roll: 2457; Page: 8A; Enumeration District: 0004; Image: 825.0; FHL microfilm: 2342191
U.S., Find A Grave Index, 1600s-Current
Virginia, Death Records, 1912-2014
Virginia, Marriage Registers, 1853–1935. Library of Virginia, Richmond, Virginia.
---
Spouse & Children:



Benjamin Franklin
Hilda Idalant Franklin
Emma Presilla Franklin
---
Siblings:
Claude M. Sisson
Mary Louise Sisson
Emma Presilla Sisson
John Hopkins Faulkner Sisson
Andrew Fuller Sisson
Louisa Jeter Sisson
Hempsel C. Sisson
Mary L. Sisson
Richardanna Sisson
George Taliaferro Sisson