22 DEC 1878 - Alfonso, Lancaster, VA
19 NOV 1950 - Alfonso, Lancaster, VA
John Elbert Bush
John Bush >> Savilla Bush >> Maida George
John was a farmer in Alfonso and very active at Lebanon Church.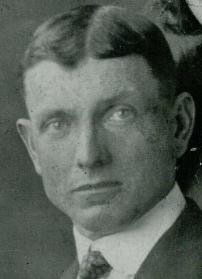 John Elbert Bush was born December 22nd, 1878 to Robert Early Bush and Eudora Virginia Alexander. He was the third of five children. John lived most of his life at the
Bush family home-place
in Alfonso.
The 1880 census shows John at age one. His father is listed as farmer and was sick with typhoid fever at the time of the census. Also living with the family was Fannie Bush, his father's sister and 8 month old William Alexander who was listed as a nephew.
John's older brother, William Sidney Bush, died in 1896 and was buried behind their home. His cause of death is unknown.
The 1900 census shows John still living with his family, he is listed as working on the farm. His father's occupation is given as farmer and carpenter.
In 1910 John is shown living with his sister Effus and her family. Effus is married to Louis Clarke. They are marked as living on the street "Lively to Alfonso Road." His name is written as "Elbert Bush," and he works as a farm laborer.
In 1918 John registered for the WWI draft. He marked his height and build as medium, his eyes as blue and hair as brown.
The 1920 census shows John listed as the head of the household and his mother, Eudora living with him. They are listed as renters but appear to still be at the Bush home-place. Eudora is listed as married, but the entry for Robert Bush shows him living with his nephew Willie Barnes, son of his sister Elizabeth Bush, in the Whitechapel magisterial district of Lancaster County. He is listed as a boarder, 72, single and unemployed.
John married Maida Ruth Haynie on March 21st, 1922. He was 20 years older. They were married in Richmond County by George T. Schools, but the marriage was recorded in the Lancaster Register. They went on to have five children between 1923 and 1928.
Maida entered Eastern State Mental Hospital in Williamsburg, VA sometime around November 19th, 1928. She died there on December the 1st. Her death certificate states that she died from "suicide by strangulation," secondary causes were, "manic, depressed, insanity." Some family members speculated that she was assaulted and killed by either a staff member or another patient. She was buried at Lebanon Church in Alfonso.
The 1930 census shows John and his four daughters along with his mother living together. His son was listed as living with his sister Effus that year. John was marked as farmer, age 49 and a widow. According to the census his age at first marriage was 25 but I have found no record of that.
On the 1940 census all of John's children are shown living with him. John is shown as completing the 7th grade. His home is valued at $1,200 and he is marked as owning it in full. He is still listed as a farmer.
On the 1950 census, taken in April, John was recorded as being 71. He was marked as a farmer and worked 60 hours the previous week. His daugher Jenny lived with him, and also his daughter Emma along with her husband and three year old son.
In September of 1950 John contracted pulmonary tuberculosis. He passed away on November 19th, 1950 and was buried at Lebanon Baptist Church on the 21st.
Documents:

Newspaper Clippings:

Map:

Comments:

Future 3:

Curabitur mattis purus ornare augue finibus, sed tempus ex eleifend. Maecenas vitae volutpat diam. Curabitur sollicitudin porttitor nisi. Nulla rutrum facilisis quam, sed bibendum magna consectetur sit amet. Fusce nulla turpis, efficitur eu tempus eu, accumsan malesuada sem. Morbi vestibulum libero et metus porttitor, vel ultrices lorem facilisis. Donec maximus ultrices ex ac tincidunt. Praesent vel enim laoreet, pharetra massa feugiat, iaculis neque. Nunc volutpat, nibh a laoreet venenatis, sem augue sodales nunc, eu commodo quam nisi vitae nunc. Nullam tristique placerat quam quis ornare.
Sources:

Year: 1880; Census Place: Mantua, Lancaster, Virginia; Roll: 1375; Family History Film: 1255375; Page: 116C; Enumeration District: 043
Year: 1900; Census Place: Mantua, Lancaster, Virginia; Roll: 1714; Page: 17B; Enumeration District: 0043; FHL microfilm: 1241714
Year: 1910; Census Place: Mantua, Lancaster, Virginia; Roll: T624_1633; Page: 10B; Enumeration District: 0056; FHL microfilm: 1375646
Year: 1920; Census Place: Mantua, Lancaster, Virginia; Roll: T625_1895; Page: 8A; Enumeration District: 65; Image: 598
Year: 1930; Census Place: Mantua, Lancaster, Virginia; Roll: 2448; Page: 11B; Enumeration District: 0001; Image: 560.0; FHL microfilm: 2342182
Year: 1940; Census Place: Mantua, Lancaster, Virginia; Roll: T627_4272; Page: 12A; Enumeration District: 52-1
1950 United States Federal Census, Virginia, Lancaster, Mantua, 52-1, Line 12, Ancestry.com. 1950 United States Federal Census [database on-line]. Lehi, UT, USA: Ancestry.com Operations, Inc., 2022.
U.S., World War I Draft Registration Cards, 1917-1918
U.S., World War II Draft Registration Cards, 1942
U.S., Find A Grave Index, 1600s-Current
Virginia, Death Records, 1912-2014
Virginia, Marriage Registers, 1853–1935. Library of Virginia, Richmond, Virginia.
Richmond Times Dispatch, 18 Apr. 1915, p. 48. NewsBank: America's News – Historical and Current, infoweb.newsbank.com/apps/news/document-view?p=AMNEWS&docref=image/v2%3A135B950C9F3CF0C6%40EANX-NB-1364DAEF5BC7EF37%402420606-135E035FA068F85C%4047-135E035FA068F85C%40. Accessed 8 Aug. 2020.
---
Spouse & Children:



Ruth Aderleane Bush
Viola Virginia Bush
Elver Emma Bush
John Elbert Bush, Jr.
---
Siblings:
Urbane Alexander Bush
William Sidney Bush
Effus Claybrook Bush
Robert Edward Bush