Eudora Virginia Alexander was born July 16th, 1852 to William Alexander and Mary Barker in Northumberland County. She was the fourth of seven children.
Eudora's father died before February 14th, 1859. Her mother Mary was listed as the head of the household of the 1860 census. She had no real estate listed and her personal estate wass valued at $200. Mary was marked as not being able to read or write. They lived in Northumberland near the Burgess Store post office. Children listed were; Robt J 14, Mary E 11, Joseph E 9, Eudora V 7, Wm G 11m, Lucius J 3m. During the war in next few years Robert served in the Northumberland County Home Guard.
In 1870 Eudora, age 16 and two of her brothers, Joseph, age 17 and William, age 14 are listed as living with Dr. Hiram W. Harding near the Burgess Store post office in Northumberland. The two brothers work on the farm. All three siblings are marked unable to read or write. Their mother is listed on the previous census page along with the two oldest children, Robert and Mary. Lucius, who was three months old on the previous census is not listed.
Eudora married Robert Early Bush (1848-1923) on March 13th, 1873 in Northumberland County. Urban Alexander was born in 1874, William Sidney was born in 1876 and John Elbert was born in 1878.
The 1880 census shows Robert and Eudora with the three boys, also living with them Robert's sister Fannie, now 21, and William Alexander, 8 months, listed as a nephew. Robert is noted as being afflicted with typhoid fever at the time of the census. A daughter, Effus, was born in 1881 and Robert E. was born in 1884.
Robert and Eudora's second son, William Sidney died in 1896 of meningitis. He was buried behind the farmhouse. In the 1900 census the four remaining children still live at home. Robert's occupation is as a farmer and carpenter. Urban and John work on the farm with him.
By the 1910 census all of the children have moved out. Robert and Eudora have been married for 36 years with 4 out of 5 children surviving. At 63 Robert is still working on the farm. They have living with them a 16 year old mulatto boy named Willie Mitchell, his relationship is given as servant and he works on the farm.
In 1920 Eudora appears living with their son John Elbert and is listed as married, but Robert is not with them. He is shown as living with his nephew Willie Barnes, son of his sister Elizabeth Bush, in the Whitechapel magisterial district of Lancaster County. He is listed as a boarder, 72, single and unemployed. Eudora and John are shown as renters but they appear to still be living at the Bush home-place.
It seems like Robert and Eudora had some difficulty in their marriage in later years. Robert died from influenza on May 25th, 1923. His death certificate states that he was divorced. Robert was also buried behind the farmhouse alongside William. Eudora recorded her will later that same year, leaving sums of cash to Effus and Robert Jr., but only $1.00 to her son Urban. John Elbert was named heir to the rest of the estate. The burial of Robert Bush could have been a sore spot between Urban and the rest of the family. In his 1941 will, Urban made a provision for the care of the burial spot of his father and brother.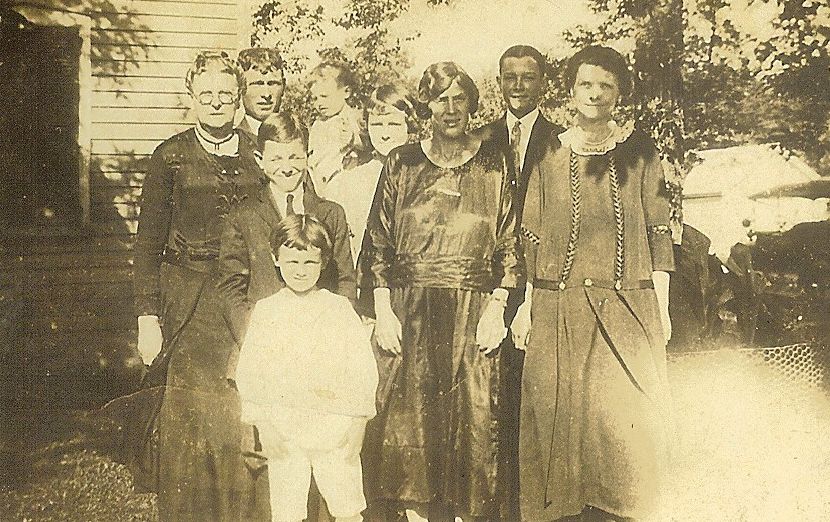 The 1930 census shows Eudora, age 75, living with son John Elbert and his four daughters. John had been married in 1922 and had 5 children before his wife died in 1928. His youngest child, a son, was living with his sister during the census period.
Eudora passed away March 29th, 1931. Her cause of death was given as "general osteo sclerosis," with secondary apoplexy (unconsciousness or incapacity resulting from a cerebral hemorrhage or stroke). She was buried at Lebanon Baptist Church.
Documents:

Newspaper Clippings:

Map:

Comments:

Future 3:

Curabitur mattis purus ornare augue finibus, sed tempus ex eleifend. Maecenas vitae volutpat diam. Curabitur sollicitudin porttitor nisi. Nulla rutrum facilisis quam, sed bibendum magna consectetur sit amet. Fusce nulla turpis, efficitur eu tempus eu, accumsan malesuada sem. Morbi vestibulum libero et metus porttitor, vel ultrices lorem facilisis. Donec maximus ultrices ex ac tincidunt. Praesent vel enim laoreet, pharetra massa feugiat, iaculis neque. Nunc volutpat, nibh a laoreet venenatis, sem augue sodales nunc, eu commodo quam nisi vitae nunc. Nullam tristique placerat quam quis ornare.
Sources:

Year: 1860; Census Place: Northumberland, Virginia; Roll: M653_1367; Page: 872; Image: 188; Family History Library Film: 805367
Year: 1870; Census Place: Fairfield, Northumberland, Virginia; Roll: M593_1669; Page: 19A; Image: 42; Family History Library Film: 553168
Year: 1880; Census Place: Mantua, Lancaster, Virginia; Roll: 1375; Family History Film: 1255375; Page: 116C; Enumeration District: 043
Year: 1900; Census Place: Mantua, Lancaster, Virginia; Roll: 1714; Page: 17B; Enumeration District: 0043; FHL microfilm: 1241714
Year: 1910; Census Place: Mantua, Lancaster, Virginia; Roll: T624_1633; Page: 6B; Enumeration District: 0056; FHL microfilm: 1375646
Year: 1920; Census Place: Mantua, Lancaster, Virginia; Roll: T625_1895; Page: 8A; Enumeration District: 65; Image: 598
Year: 1930; Census Place: Mantua, Lancaster, Virginia; Roll: 2448; Page: 11B; Enumeration District: 0001; Image: 560.0; FHL microfilm: 2342182
U.S., Find A Grave Index, 1600s-Current
Virginia, Death Records, 1912-2014
Virginia, Select Marriages, 1785-1940
Will book, 1690-1949 ; general indexes to wills, etc., ca. 1700-1977; Author: Virginia. County Court (Lancaster County); Probate Place: Lancaster, Virginia
Covington, Richard W. "Northumberland County Home Guard Organization and Membership." The Bulletin of the Northumberland County Historical Society, LV, 2018, pg. 100.
"Northumberland, Virginia, United States Records," images, FamilySearch (https://www.familysearch.org/ark:/61903/3:1:3Q9M-C91C-Y94G-W : January 17, 2021), image 601 of 793; Northumberland County (Virginia). County Clerk.
---
Spouse & Children:



Urban Alexander Bush
William Sidney Bush
Effus Claybrook Bush
Robert Edward Bush
---
Siblings:
William Alexander
Robert J. Alexander
Mary Edmonia Alexander
Joseph Alexander
William G. Alexander
Lucius J. Alexander