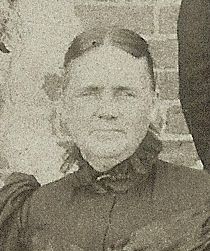 Julia Ann Headley was born March 27th, 1848 in Lancaster, VA to William Walton Headley (1821-1859) and Julia Ann Revere (1827-). She was the third of eight children.
She is first listed on the 1850 census, at age 2. Her name is written as J. Angella Headley. Her father's occupation is as a teacher and his real estate is valued at $500. Mary "Riveer" or Revere, age 67, is also living with the family, she would have been Angella's grandmother. The census form puts them in Lancaster County, but no locality is given.
W.W. Headley died in September of 1859, the mortality scheduled tells his cause of death as chronic diarrhea and says he was afflicted for 3 months.
On the 1860 census Angella's mother, J.A. Headley, is listed as head of the family and as a farmer with an estate worth $1,000, and personal property of $1,829. Julia Ann, age 12, was marked as attending school that year. The nearest post office was Litwalton.
Angella married John Emory Haynie (1850-1922) on January 21st, 1869. They were married in Lancaster County by Rev. Addison Hall.
So far I have not been able to find an 1870 census record for Julia or John.
By the 1880 census all four of the couples children have been born and they are listed on the form ages; 9,7,6 and 1. Julia is listed as keeping house. John is listed as a farmer and marked as being sick the day of the census. They were living in the Mantua district of Lancaster.
In the 1900 census Julia and John are living in the White Chapel district of Lancaster County. John is still listed as farmer. It is noted that he owns the farm but makes mortgage payments. The couple are marked as being married 31 years with four children born and all four still alive. Their son Walter Franklin and his new wife live with them, the couple is marked as being married less than a year.
For the 1910 census that couple are still in the White Chapel district, probably on the same farm. They live alone now. John is still marked as owning his farm but making mortgage payments.
The 1920 census shows the couple once again in the White Chapel district. John is now marked as owning his farm mortgage free. Their ages are given as 69 and 72. For some reason both are listed as black.
John died in May of 1922 of vascular heart disease and was buried at Lebanon Church on May 26th. At some point after that Julia moved in with her oldest son, William J., and is shown living with him on the 1930 census. Her age is given as 82.
Julia Ann died on the 9th of September, 1939 at age 91. Her cause of death was given as myocardial insufficiency. She was buried at Lebanon Chuch the next day. Her obituary states that she had 40 great-grandchildren at the time of her death.
Documents:

Newspaper Clippings:

Comments:

Future 3:

Curabitur mattis purus ornare augue finibus, sed tempus ex eleifend. Maecenas vitae volutpat diam. Curabitur sollicitudin porttitor nisi. Nulla rutrum facilisis quam, sed bibendum magna consectetur sit amet. Fusce nulla turpis, efficitur eu tempus eu, accumsan malesuada sem. Morbi vestibulum libero et metus porttitor, vel ultrices lorem facilisis. Donec maximus ultrices ex ac tincidunt. Praesent vel enim laoreet, pharetra massa feugiat, iaculis neque. Nunc volutpat, nibh a laoreet venenatis, sem augue sodales nunc, eu commodo quam nisi vitae nunc. Nullam tristique placerat quam quis ornare.
Sources:

Year: 1850; Census Place: Lancaster, Virginia; Roll: M432_955; Page: 282B; Image: 94
Year: 1860; Census Place: Eastern District, Lancaster, Virginia; Roll: M653_1357; Page: 615; Image: 197; Family History Library Film: 805357
Year: 1880; Census Place: Mantua, Lancaster, Virginia; Roll: 1375; Family History Film: 1255375; Page: 116C; Enumeration District: 043
Year: 1900; Census Place: White Chapel, Lancaster, Virginia; Roll: 1714; Page: 17B; Enumeration District: 0045; FHL microfilm: 1241714
Year: 1910; Census Place: White Chapel, Lancaster, Virginia; Roll: T624_1633; Page: 1A; Enumeration District: 0058; FHL microfilm: 1375646
Year: 1920; Census Place: White Chapel, Lancaster, Virginia; Roll: T625_1895; Page: 4B; Enumeration District: 67; Image: 635
Year: 1930; Census Place: Mantua, Lancaster, Virginia; Roll: 2448; Page: 8A; Enumeration District: 0001; Image: 553.0; FHL microfilm: 2342182
U.S., Find A Grave Index, 1600s-Current
Virginia, Death Records, 1912-2014
Virginia, Select Marriages, 1785-1940
"Lancaster, Virginia, United States Records," images, FamilySearch (https://www.familysearch.org/ark:/61903/3:1:3Q9M-C91C-7SVX-S : January 21, 2021), image 682 of 1137; Lancaster County (Virginia). Clerk of the County Court.
---
Spouse & Children:



William J. Haynie
Walter Franklin Haynie
Chloe Emma Haynie
---
Siblings:
Mary Ella Headley
Isabella Headley
Abner Melville Headley
Adoniram Judson Headley
Sarah Elizabeth Headley
William Samuel Headley