Hempsel Clarke was a farmer in Richmond County and founding member & Deacon of Totuskey Baptist Church.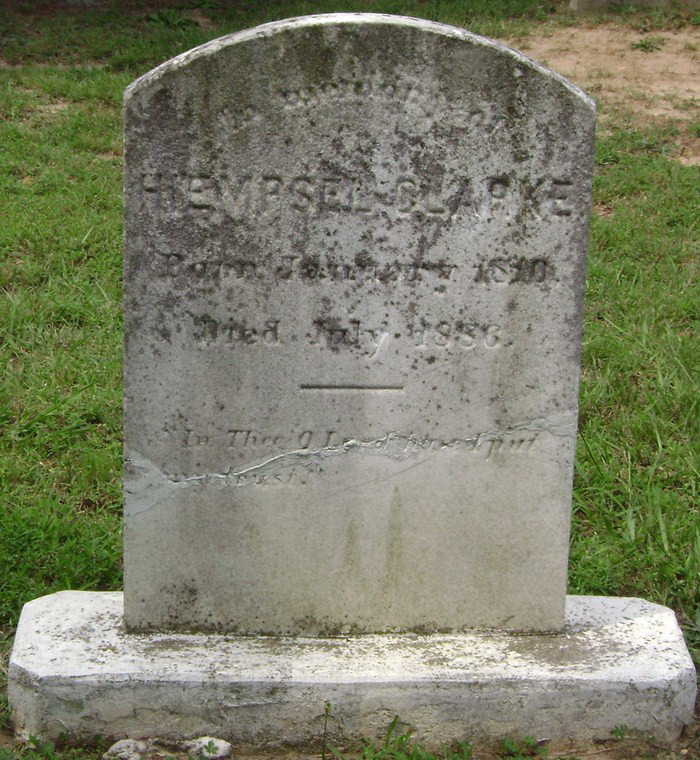 On the gravestone his name is spelled "Hempsel Clarke." Other records spell Hempsiel with an "I" and "Clark" with no "E." Hempsel was born May 25th, 1810 in Richmond County to Randall C. Clark and Nancy Davis. His Clark ancestors were longtime Northern Neck residents, his grandfather was a doctor and his great-grandfather was a surveyor for Richmond County.
The earliest record I have found for Hempsel is when his name was recorded in Richmond County on the 1829 personal property tax list. At age 19 he was listed as living alone but not owning any taxable property.
Hempsel married Ann Kent, daughter of Thomas Kent and Priscilla Doggett, in Lancaster County on October 3rd, 1838. They went on to have at least one child, Anna Elizabeth, born November 14th, 1839.
Hempsel Clark is listed as a family head on the 1840 census for Richmond County. Household members are listed as; one white male 30-34, one white female under 5, one white female 20-30 and one white female 30-40.
On the 1850 census Hempsel's family in Northumberland County, 7th District. His occupation is given as overseer and age as 40. His wife Ann is 39 and his daughter Ann is 10 and attending school. Also listed with them is Patsy Clark age 21, she could have been a sibling. Hempsel had no real estate listed.
The 1860 census lists Hempsel in Richmond County, served by the Stony Hill Post Office. He and Ann are the only two household members listed. His property is valued at $10,000 and personal estate at $15,000. His occupation was listed as farmer. They are listed on the same census page as their daughter, Anna Elizabeth and her husband John T. Sisson. Anna and John had no property listed and may have lived on Hempsel's farm. Hempsel was listed as a slave owner in the 1860 slave schedule. This farm may have been in Haynesville at the northwest corner of present day routes 360 and 619. According to Richmond County Virginia, A Review Commemorating the Bicentennial at some point Hempsel bought a home in Haynesville built around 1820 by Corbin Haynes. "The house has a low English basement, a center hall, and a chimney at either end. The brick bond is irregular American. There was once a fairly large carriage house, as well as a number of slave cabins. There was also an old log building which was used as a storehouse by Hiempsel Clark...Clark owned two schooners and brought provisions here for himself and for neighbors - barrels of sugar, coal oil, clothing etc." Hempsel's grandson, George T. Sisson, lived in the house in 1915 according to the Northern Neck News. In 1920 Hempsel's great-grandson, Benjamin Franklin (brother of George Edward Franklin), bought the same house and lived there until he died in 1977. Since then the original house has been demolished.
The 1870 census shows Hempsel and Ann listed in the Washington Township of Richmond County, served by the Warsaw Post Office. Hempsel works as a farmer, his land is valued at $5,000 and his other property at $1,000. Living with them are a number of children who do no appear to belong to the couple; Emma Sisson 14, Andrew F. Sisson 10, Lou Jeter Sisson 7, and Jeter F. Brown 14 and working as a laborer. The first three appear to grandchildren belonging to their daughter Anna Elizabeth who had married John T. Sisson. Emma and Andrew were both marked as attending school.
Hempsel was listed as a founding member of Totuskey Baptist Church in 1871. He also served as a Deacon was frequently mentioned in the minutes of Church as caring for the church lamps or building and whitewashing fences for the church.
Hempsel's wife Ann died in November 1878 of pneumonia. Her burial location is unknown and was possibly near their home, if she was buried at Totuskey there is no stone marking her grave.
Hempsel remarried quickly to Mary Elizabeth Wright (1833-1914). Her father was Mottram Middleton Wright of Westmoreland and her mother's name was Malinda. She and Hempsel were married June 3rd, 1879 in Westmoreland.
The 1880 census shows Hempsel and Mary in Richmond County. At age 70 he is still working as a farmer. George Sisson, age 16, lives with them and is listed as adopted (may have been a grandson). Rebecca Lampkin, 17, and listed as a cousin also lives in their home. Hempsel was also listed on the Agriculture Schedule for 1880. He is shown as owning his farm and tilling 80 acres with 300 acres unimproved. The value of the farm is given as $4,000, his tools $40 and livestock $300. Hempsel spent $100 building and repairing fences in 1879 and $160 on fertilizer. The estimated value or crops and livestock produced that year was $700. He had 5 horses, 2 oxen, 4 milking cows and 6 other cows. Hempsel planted 40 acres in corn and yielded 750 bushels and 40 acres in wheat to produce 300 bushels of grain. He also grew small amounts of irish and sweet potatoes.
Hempsel died July 25th, 1886. He was buried in the Totuskey Baptist Church Cemetery. His second wife, Mary, may have been remarried after his death. She doesn't appear to be buried at Totuskey.
After Hempsel's death an odd resolution appeared in the Northern Neck News. It begins by referring to Hempsel as a planter of the church "through whose instrumentality this church was organized" and stating that he had a "long established character for integrity." The resolution then went on to "defend the reputation" of Hempsel by giving an account of why he withdrew from their church in 1880. The story told was that Hempsel had loaned fellow church member William A. Wilson $100 and accepted a lien on Wilson's wheat crop as security. When Wilson harvested the wheat and made shipment to the Baltimore markets without paying back the loan it angered Hempsel so much that he wrote a letter to the church to erase his name from the rolls so that he could transfer to Ebanezer Methodist. Hempsel reportedly told this story to witnesses at E.B. Hart & Bro. store and said that he "could not remain in the church with a member who had by fraud and falsehood robbed me of $100." Soon after this account appeared in the paper a response from Hempsel's son-in-law J.T. Sisson and daughter Anna Elizabeth Clark was printed. They defended the character of Wilson and stated that the resolution "contains some of the most unreasonable and unfounded falsehoods I have ever seen or heard of. No part of it is true except that which refers to the good character of H. Clarke, which is by no means appreciated by his friends, coming from the source it did. The church was either laboring under a great mistake, or their act malicious. It was another party that borrowed $100 from Mr. Clarke and the same party drove him from the denomination." Weeks later members of Totuskey responded by doubling down on the story and included signatures of several witness that claimed they had heard Hempsel Clarke blame his withdrawal from the church on Wilson.
Documents:

Newspaper Clippings:

Map:

Comments:

Sources:

"Richmond, Virginia, United States Records," images, FamilySearch (https://www.familysearch.org/ark:/61903/3:1:3Q9M-CSKJ-49S8-2 : September 12, 2020), image 693 of 717; Virginia. Commissioner of the Revenue (Richmond County).
Year: 1840; Census Place: Richmond, Virginia; Roll: 575; Page: 56; Family History Library Film: 0029691
Year: 1850; Census Place: District 7, Northumberland, Virginia; Roll: M432_965; Page: 331A; Image: 120
Year: 1860; Census Place: Richmond, Virginia; Roll: M653_1374; Page: 335; Family History Library Film: 805374
Year: 1870; Census Place: Washington, Richmond, Virginia; Roll: M593_1674; Page: 257B; Image: 520; Family History Library Film: 553173
Year: 1880; Census Place: Washington, Richmond, Virginia; Roll: 1386; Family History Film: 1255386; Page: 464C; Enumeration District: 099
Census Year: 1880; Census Place: District 99, Richmond, Virginia; Archive Collection Number: T1132; Roll: 28; Page: 643; Line: 9; Schedule Type: Agriculture
Virginia, Marriage Registers, 1853–1935. Library of Virginia, Richmond, Virginia.
Web: Virginia, Find A Grave Index, 1607-2012
For Love of Family, Peter T. Baron Jr, 2012
Richmond County Virginia, A Review Commemorating the Bicentennial, Elizabeth Lowell Ryland, 1976
"Lancaster, Virginia, United States Records," images, FamilySearch (https://www.familysearch.org/ark:/61903/3:1:3QSQ-G9XF-JNYX : January 15, 2021), image 318 of 386; Lancaster County (Virginia). County Clerk.
Future 3:

Curabitur mattis purus ornare augue finibus, sed tempus ex eleifend. Maecenas vitae volutpat diam. Curabitur sollicitudin porttitor nisi. Nulla rutrum facilisis quam, sed bibendum magna consectetur sit amet. Fusce nulla turpis, efficitur eu tempus eu, accumsan malesuada sem. Morbi vestibulum libero et metus porttitor, vel ultrices lorem facilisis. Donec maximus ultrices ex ac tincidunt. Praesent vel enim laoreet, pharetra massa feugiat, iaculis neque. Nunc volutpat, nibh a laoreet venenatis, sem augue sodales nunc, eu commodo quam nisi vitae nunc. Nullam tristique placerat quam quis ornare.
---
---
Siblings:
Eliza Clark
Fanny Clark
John Clark
Josiah Clark
Sally Clark