Sallie grew up at Peckatone Plantation. She moved to Washington, DC after marrying John Parker Allen.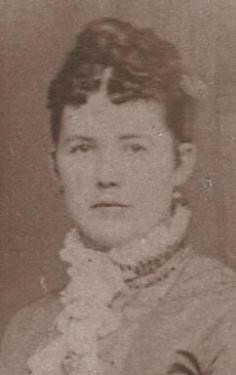 Sarah Frances Hardwick was born September 25th, 1854 in Westmoreland County. Her parents were Samuel Redman Hardwick and Rebbecca Marmaduke.
Sallie first appears on the 1860 census. Her father sounds to be a successful farmer with real estate valued at $6,500 and a personal estate valued at $15,330. The family is only listed by initial on the census form. R. 35 F, E. 16 F, L. 12 F, S.F. 6 F, and W. 1 M. The nearest Post Office is given as Kinsale. The 1860 slave schedule showed Samuel Redman held 18 slaves. No slave names are listed, only age and sex. He had four slave houses.
It appears that Sallie's mother passed away later in 1860. Her father remarried to Susan Frances Bailey (1835-1876). The Civil War seemed to be a little kinder Sallie's family than many Northern Neck families. Her father would have been 45 when the war started and I have not seen evidence of him serving. The financial impact of the war caused the family that had owned Peckatone Plantation for 200 years to sell out. Samuel Redman bought the property in the late 1860's to farm tobacco and is reported to have built the first tomato cannery in Kinsale.
On the 1870 census the family is living at Peckatone, now served by the Nominy Grove Post Office. The value of her father's real estate has dropped to $5,000 and $850 in personal property. Sallie's older sister Lucy is married to J.S. Redmond and they live with the family. A 16 year old black boy named Bonaparte Redmomnd also lives with them and is listed as a servant. Several black families live in nearby homes and have occupations like domestic servant and laborer. They may have been some of the same slaves from before the war still working on the plantation.
On April 30th, 1879 Sallie married John Parker Allen also of Westmoreland County the son of a Confederate veteran. They were wed in Washington, DC, but were apparently still living in the Northern Neck.
On the 1880 census the newly married couple is in the Cople district of Westmoreland. John is working as a farmer. A 10-year-old white girl named Elnora Butler is living with them and is listed as a servant.
Their first child, Elizabeth Catherine Allen was born in 1881 and son Russell was born in 1885 while they were still living in Westmoreland.
In the 1900 census the family is now living in Washington, DC on G St. SW. Youngest son Edgar is listed as being born in Washington, DC in 1891. John's work is listed as Motorman RR. Fifteen year old Russell works as a fruit salesman. Their home is rented.
In 1910 the family still lives on G St in DC and is probably renting the same home. The two oldest children have moved out. Edgar works as a clerk in a drug store. He would go on to be a doctor. Sallie is marked as having given birth to 4 children with 3 still living. John's occupation is Street Car Motorman.
The 1920 census shows Sallie and John still renting a home on G St. SW. Their son Russell is living with them along with his wife and two children. At age 63 John Parker is still working as a Street Car Motorman. Russell drives an ice wagon.
The 1930 census shows 76-year-old Sallie had moved in with their daughter Bessie. She is listed as a "permanent guest," also she is marked as married. The best match for John Parker in the census records shows that he was still living in Washington, DC as a boarder with Thomas Segar on 9th St. SW. He is marked as being divorced. At age 72 his occupation was given as none.
Frances Catherine Franklin said that her older brother had a memory of Sallie in a bed or wheelchair and for some reason he threw a fish at her.
John Parker died in Washington, DC in February of 1933. He was buried at Carmel Methodist Church. Sallie died later that same year on December 16th. She was buried alongside John two days later. Her cause of death was given as myocarditis (inflammation and damage of the heart muscle). The informant for the death certificate was her son-in-law Eddie Barnes, he reported her "usual place of residence" as Tucker Hill, VA which is on the road between Kinsale and Coles Point.
Documents:

Newspaper Clippings:

Map:

Comments:

Future 3:

Curabitur mattis purus ornare augue finibus, sed tempus ex eleifend. Maecenas vitae volutpat diam. Curabitur sollicitudin porttitor nisi. Nulla rutrum facilisis quam, sed bibendum magna consectetur sit amet. Fusce nulla turpis, efficitur eu tempus eu, accumsan malesuada sem. Morbi vestibulum libero et metus porttitor, vel ultrices lorem facilisis. Donec maximus ultrices ex ac tincidunt. Praesent vel enim laoreet, pharetra massa feugiat, iaculis neque. Nunc volutpat, nibh a laoreet venenatis, sem augue sodales nunc, eu commodo quam nisi vitae nunc. Nullam tristique placerat quam quis ornare.
Sources:

Year: 1860; Census Place: Eastern District, Westmoreland, Virginia; Roll: M653_1383; Page: 997; Image: 641; Family History Library Film: 805383
1860 U.S. Federal Census - Slave Schedules
Year: 1870; Census Place: Cople, Westmoreland, Virginia; Roll: M593_1681; Page: 235A; Image: 56503; Family History Library Film: 553180
Year: 1880; Census Place: Cople, Westmoreland, Virginia; Roll: 1393; Family History Film: 1255393; Page: 433B; Enumeration District: 115
Year: 1900; Census Place: Washington, Washington, District of Columbia; Roll: 162; Page: 18B; Enumeration District: 0096; FHL microfilm: 1240162
Year: 1910; Census Place: Precinct 4, Washington, District of Columbia; Roll: T624_151; Page: 6B; Enumeration District: 0066; FHL microfilm: 1374164
Year: 1920; Census Place: Washington, Washington, District of Columbia; Roll: T625_207; Page: 10B; Enumeration District: 80; Image: 115
Year: 1930; Census Place: Cople, Westmoreland, Virginia; Roll: 2464; Page: 11B; Enumeration District: 0001; Image: 213.0; FHL microfilm: 2342198
District of Columbia, Select Marriages, 1830-1921
U.S., Find A Grave Index, 1600s-Current
Virginia, Death Records, 1912-2014
---
Spouse & Children:



Edgar William Allen
Russell Audlay Allen
---
Siblings:
Elizabeth Catherine Hardwick
Mary Emma Hardwick
Lucy Virginia Hardwick
William Nixon Hardwick